Complete petfood for adult dogs (>18 months) of large and giant breeds (>45kg).
EURO•PREMIUM® Adult Giant Chicken & Rice Rice is a highly digestible chicken-based food, developed for special needs of large and giant dogs. The food contains fructo-oligosaccharides (FOS) and beet pulp for an optimal digestion. The added excellent fish oil results in the ideal balance of Omega-3 and Omega-6 fatty acids to support joints and a healthy skin and shiny coat. The addition of glucosamine and chondroitin sulfate
helps for an extra support for the sensitive joints of large and giant breed dogs. This food helps to strengthen natural defenses and is formulated without wheat to fulfil the needs for dogs with a sensitivity for wheat gluten.
CHICKEN & RICE
with chicken & rice
JOINT PROTECTION
The optimal level of omega-3 fatty acids and the addition of glucosamine and chondroitin sulphate help to support flexible and strong joints.
WHEAT GLUTEN FREE
Because this formula contains no wheat, it is beneficial for dogs with a sensitivity for wheat gluten.
PERFECT SIZE & SHAPE
Large kibbles are designed especially for very large dogs to promote slower eating. Biting the large kibble, helps supporting dental care.
STRONG IMMUNE SYSTEM
The optimal vitamin mix (with high amounts of vitamin C and E), prebiotics (FOS, MOS and beet pulp) and the added selenium as antioxidant support the immune system and a good metabolism.
Recommended daily ration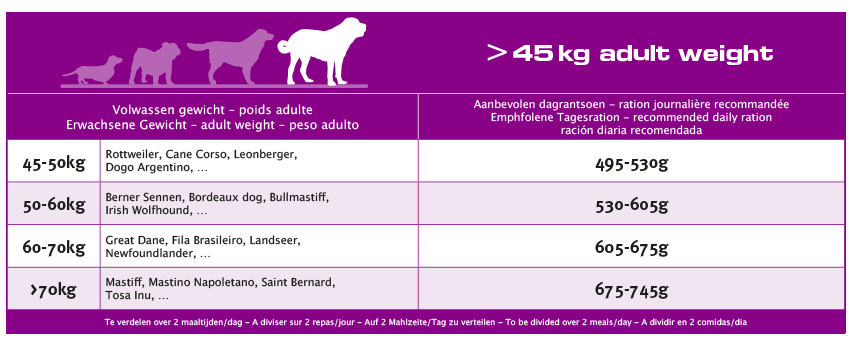 Directions of use
EURO•PREMIUM® Adult Giant Chicken & Rice should be served dry.
Don't suddenly switch food from another brand, but gradually increase the amount of new food over a period of 1 week. Take the feeding table into account and adjust according to your dog's need. Clean, fresh water should be available to your dog at all times. Store this bag in a cool and dry place. To avoid risk of suffocation, keep the bag out of reach of children and pets.
Composition
Chicken meat meal (26,5%), rice (26%), maize, animal fat, hydrolyzed chicken liver, beet pulp, dried whole eggs, dehydrated fish, yeast, salt, refined fish oil, lecithin, fructo-oligosaccharides (0,1%), glucosamine, chondroitin sulphate.
Analytical constituents
Crude protein: 25% - Fat content: 14% - Crude Fibre: 3,5% - Crude Ash: 7% - Calcium: 1,35% - Phosphor: 0,9%
ADDITIVES: (per kg): Nutritional additives:
E672 (Vitamin A): 19000 IU,E671 (Vitamin D): 1700 IU, Vitamin E: 170 mg, E4 (Copper): 13 mg, E1 (Iron): 120 mg, E6 (Zinc): 100 mg, E5
(Manganese): 24 mg, E2 (Iodine): 0,9 mg, E8 (Selenium): 0,1mg – Contains EC permitted preservatives and antioxidant substances.